Description
Composition
Similar products
More from this brand
Recipes
Vynikající smetanová zmrzlina vyrobená z kakaového másla a kakaa.
Cioccolato je nejznámější a nejoblíbenější varianta italského gelata. Základem této zmrzliny je ekvádorské kakao, které je použito v kombinaci s plnotučným mlékem a bílým třtinovým cukrem, aby byla vytvořena zmrzlina s dlouho přetrvávajícím komplexem chutí. Jedná se o kakao Arriba Mocache, které je velmi kvalitní a známé pro svou květinovou chuť s tóny sušeného ovoce.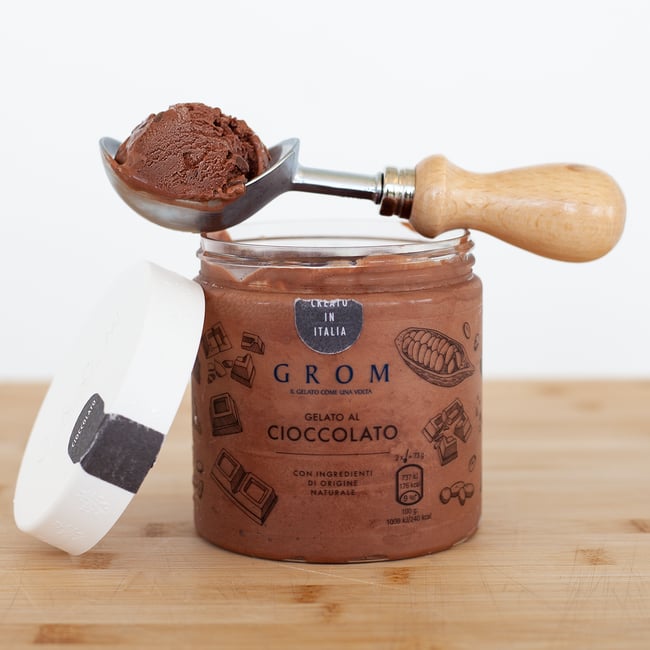 Použití
Určeno k přímé konzumaci. Ze zmrzliny si můžete připravit lahodný zmrzlinový pohár, který si ozdobíte šlehačkou a kousky svěžího ovoce. Kopečkem oblíbené zmrzliny si také můžete dochutit ledovou kávu, nebo s ní nazdobit výborné palačinky.
O výrobci
Grom je pravá italská společnost, kterou založili dva kamarádi, Guido a Federico, v severozápadním městě Itálie – Turín. Cílem podniku bylo naleznout přesně takovou chuť zmrzlin jako se vyráběly dříve a světe div se, podařilo se! Postupem času si pořídili pozemky, kde začali pěstovat nejrůznější druhy ovocných stromů proto, aby základní ingredience na výrobu zmrzliny byly kvalitní, krásně zralé a šťavnaté.

Skladování
Skladujte v mrazničce při teplotě -18 °C a nižší.
Výrobce
GROMART s.r.l.
Piazza Paleocapa 1/d
10121 Torino
Itálie
Durability
Average durability from the time of delivery: 236 days.
Guaranteed minimum durability from the time of delivery: 80 days.If the minimum durability is lower, please
contact us
and ask for a refund. Not applicable to items from the Save the Food section.